IT'S BACK FOR 2012!!!!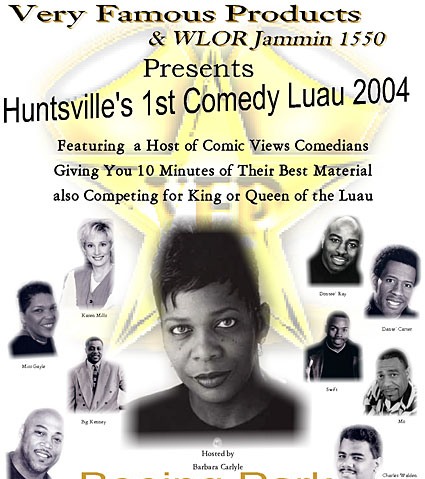 MARK YOUR CALENDARS - SATURDAY, JULY 21, 2012
The year is 2004. Huntsville has it's first COMEDY LUAU with the largest comedy line up ever to hit the area. It featured some of Comic View's best comedians. It was hosted at Sportmans Park on August 21, 2004. The gates opened at 10:00am. Over 2000 kids participated. Joe Johnson of the Atlanta Hawks made a guest appearance and his foundation was one of the sponsors. People brought lawn chairs, loaded up the kids and had a full day of family fun, activities and entertainment. If you missed it, you had the next years to catch it.
Fast forward. The year is 2012. Huntsville will be the place again for the now 8th Annual Comedy Luau. Black Pearl Select Salons & Products along with The Joe Johnson Foundation presents Black Pearl's 8th Annual Comedy Luau on Saturday, July 21, 2012 at Cahaba Shrine Park, 6001 Pulaski Pike, Huntsville, Alabama. RAIN OR SHINE! Please! No alcohol allowed on the premises. The gates open at 10:00am with a host of activities for children (3 on 3 basketball hoops, moonbounces, slip and slide rides, horseshoes, etc) and vendors to serve you.
There will be food, fun and entertainment for the entire family. We offer many fun filled events. A Comedy Fest featuring comics from all over. Some comics well known, and some on the way to being well known and from Huntsville. There will be music and entertainment to include local rappers (clean lyrics) and singers, karaoke and talent contest. A kid zone will be set up for all children including a play area, carnival rides, moon bounce, train rides and much more. We will also offer a cook off competition for all the grillers in the area. Our vendor booths include art, photos, V.F.P. Hair care products, Hawaiian trinkets, handbags and accessories, t-shirts, Pops World Famous BBQ Sauce, candles, incense, voter registration and much more.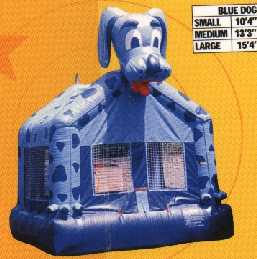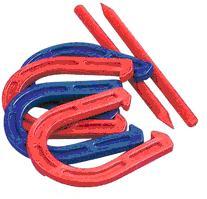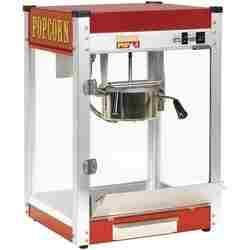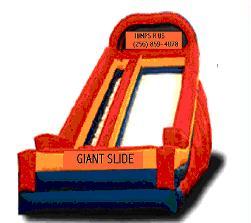 Let's Talk Sponsorship Packages
Companies, large and small, local and non-local, are invited to support this event by being a sponsor. There are several ways to support as a sponsor so consider the packages below and select the one that is best for you.
Read our sponsorship letter for 2012, Click Here For sponsorship packages, Click here
Let's Talk Donations
If you would like to contribute to the Comedy Luau 2012, click here to donate your amount.
We appreciate your contributions.
Let's Talk Vendor Booths
General vendors, local and non-local, are invited to set up booths to display or sell approved products from their business. Food vendors may display/advertise but are not allowed to sell during the luau.
Vendor Display Booths are available for $50.
Vendor Selling Booths are available for $100. Restricted Items include water, food, soda, various sweets & candies, sauces or luau shirts. If your product is among these restricted items, please consider setting up a Display/Advertisement Booth.
Provide own tables and chairs. Tents are allowed if desired.
Stay Tuned For Vendor Application Forms Please arrive in time to be set-up by 10am.
A PORTION OF THE PARKING PROCEEDS WILL BE DONATED TO THE HARVEST BOYS AND GIRLS CLUB!

Food Concessions
Standard meals are $3 per person unless otherwise noted. Other food concessions will include a variety of options at affordable prices such as snowcones, popcorn, cotton candy and desserts.


BBQ Cook Off
Highly anticipated, highly requested. All BBQ grillers that feel they have 'something special' in the grilling department are invited to the BBQ Cook Off Challenge. The entrance fee is $50 and up to a three-man staff is permitted. Grillers must bring all gear and equipment and be ready to start from scratch. Must arrive by 6:30am to set-up and start. Judging will be throughout as meat becomes ready. Final judging ends at 2:00pm. BBQ COOK OFF RULES INCLUDE no pre-cooked meat, no commercial grills or equipment/utensils, cannot give meat away. Only allow enough meat for judging. Any remaining meat must be packed away to take back with you. First, second, and third place trophies will be awarded along with an opportunity to showcase their flavors at Black Pearl Select salons on a designated Saturday by the owner. Donations may be accepted during that time. All teams will receive certificates of participation.
Stay Tuned For BBQ Cook-Off Form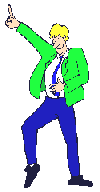 Local Talent Competition
Who's gonna be the LUAU's BEST? Local talent, individuals and groups, are invited to showcase their talents (comedians, singers, rappers, dancers, and poets) and compete in the 2012 Comedy Luau Talent Competition. $15 EARLY Entrance Fee per individual or group. Three microphones will be provided per group. ALL PERFORMANCES AND OUTFITS MUST BE TASTEFUL AND PRESENTABLE FOR ALL AGES. ALL FEES ARE NON-REFUNDABLE. 3-5 minute performances. Time permitting, an additional performance may be allowed. Check-in time for all performers is 11:00am. Contest performances begin at 12:00pm. Come dressed or get dressed on location. Consider bringing a change of clothes to enjoy the rest of the day.
Stay Tuned For Talent Competition Forms
Music artists with professional CD's must also contact Black Pearl Select at 256.417.7609. Sale of CD is not permitted at the Comedy Luau but may be displayed during their performance. Any artist merchandise sold on the premises during the Comedy Luau will be confiscated by security.



The Rides & Activities
The rides and activities are focused around the children. Rides include trackless train, electronic swings, etc. Inflatables include moonbounces and slides. Rides and inflatables are free for the children. Activities require a small fee not to exceed $3 such as arts & crafts for $3 (covers materials), dunking booth for $1, photo opportunities with Pearl and Vic and an NBA player for $10 (includes 2 photos).
Come early and plan to hang around for the day.
Signed,
Patty Gurley,
Administrator, Black Pearl Select